Festival
ASOT 900 Spain en Madrid
MADRID
ASOT 900 Spain en Madrid
Wanda Metropolitano, Avda. de Luis Aragonés, 4 28022 Madrid
EDAD MÍNIMA DE ACCESO 18 AÑOS.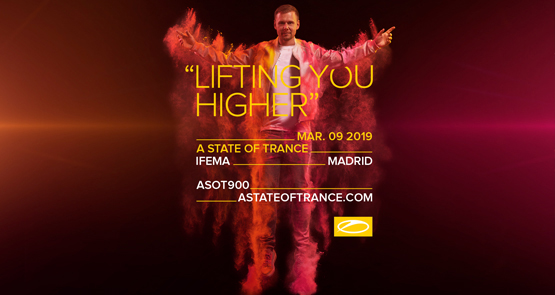 Armin van Buuren , uno de los artistas más queridos por el público español, y sobre todo por el madrileño, vuelve a España, con A State Of Trance y la gira "ASOT 900", 6 años depués de la presentación en nuestro país.
Madrid ha sido escogida por Armin Van Buuren, para acoger la gira conmemorativa de sus 900 programas del radioshow más famoso del mundo, "A State Of Trance"
El holandés presentará su nuevo espectáculo el 9 de marzo en el IFEMA de Madrid junto a grandes artistas y amigos, que todavía no ha desvelado, pero esta vez, y a diferencia de 2013, tendremos ASOT en gran formato.